Project overview
Date of completion April 2019
Colonial Vineyard Limited decided to subdivide their farming land to 5 commercial and 250 residential lots.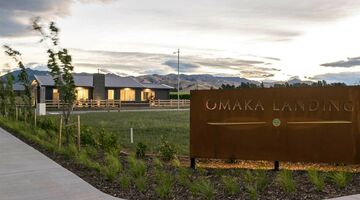 Overview
In 2015, Colonial vineyard limited decided to subdivide their vineyard to commercial and residential housing. The newly designed project was named as Omaka Landing subdivisions. The whole project was divided into seven stages. Omaka Landing is located on the western side of Blenheim and close to the town. Stage 1 was started in February 2016, and the work was carried out according to the stages. The last two stages were Stage 5 completed in March 2018 and Stage 6 completed in April 2019. There are more than 250+ residential lots subdivided with 5 commercial lots.
Simcox Construction was originally appointed following a successful bid for Stage 1, and then were appointed for all the following stages due to our excellent track record that includes budget, quality, and programme.
Some stages were worked on concurrently with two and even three stages being constructed together at various times, providing all required consents, services and contracts were in place to keep moving forward. The residents, authorities, and businesses were happy with how we managed the construction works. We maintained our speed while still achieving high quality work as well as the trust of local authorities. This subdivision development was planned to be completed over a 10 year period. Simcox was able to complete the 7 stage development in 4 years.
Challenges
Wet weather and dust were the biggest challenges for this site. We had to be very careful to keep an eye on the weather forecast when planning all trenching, road and path excavations because the soils under the top soil did not dry or compact if exposed to any rain or when there was wind we would create dust for the existing and newly developed housing as the stages were completed. This was one of the identified risks was soil remediation. This was the treatment and tilling of existing soils. Added to this we had to over excavate to remove any of this wet ground prior to compacting metal courses over the top which weather seals the rain out. We developed three strategies to mitigate unpaid extra work removing and replacing wet and unusable existing subgrades. These were:
To leave the dig out 100mm higher than the design subgrade if we could not get a metal subbase course in and compacted prior to a rain event
To put down a compacted subbase of AP65 as soon as possible even if it wasn't to perfect line and level initially
To backfill and compact all trenches prior to the backfill material getting wet.
The existing ground material was deemed suitable for service trenches so we were financially responsible for keeping digout stockpiles out of any rain while they were uncompacted.
Awards
Finalist - CCNZ Nelson/Marlborough Branch Awards 2019.