Project overview
Date of completion May 2019
The Park Terrace Stopbank project was the last of the earthquake damage projects in the Marlborough District Council budget. Due to time constraints Marlborough District Council need a contractor to finish the works within a 6 month window over summer before any potential winter flooding occurred.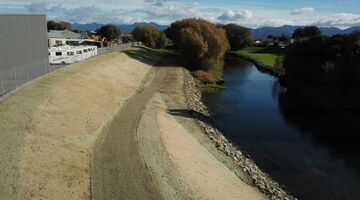 Overview
The Park Terrace Stopbank works involved a brief 2 weeks of work to build the new rock wall bank in the river's edge prior to Christmas in December 2018. This was done in a short amount of time and to a great quality finish. Simcox re-established at the end of January and worked through to Easter on the stop bank and block retaining wall construction. Final tidy up works of a new path along the river, new permanent fencing and some side work for the neighbouring property owners including demolitions, site works and drainage wrapped up in the middle of May 2019.
The rock wall was 120m long, and the stop bank was 160m long. Also included in the stop bank portion of the job was a 2 course wide, 7 blocks high, vertical block retaining wall.
At the very base of the new stop bank, we were just below the nearby river level, and the ground was very soft, blue puggy clay. We used a deep large gabion rock and filter fabric in a makeshift raft design to deal with this unsuitable subgrade for the stop bank. Any suitable clayey and silty material dug out of the original wall was kept in site stockpiles to be re-used on the top lifts and side batters. Most of the stopbank fill was actually imported quarried screened 100mm, and down that, we compacted to very good effect with a full time site watercart and 10t sheepsfoot roller. Every 500mm lift, we NDM density tested every 15m and then layed out Tensar RE570 geogrid. This provided real lateral and tensile strength to the new wall which shifted more than a meter laterally in the earthquake and developed large soft spots and cracks. The new geogrid layers were also pinned and concreted into the new block retaining wall.
The block wall was built on a level concrete foundation such that at least 1 and a half blocks were below ground level for lateral strength. The block wall was 2 course wide, 145m long and 7 blocks high. The blocks were locked into each other by fibreglass pins, no fines concrete infill through the hollows and layers of geogrid running between them. Every 2.9m, the hollows in the blocks were not filled with concrete, to enable the chain link security fence posts to be concrete 650mm down into the block wall.
Challenges
This project demanded a lot of material which came to the Marlborough District Council owned Pukaka Quarry. It was a challenge for Simcox to consistently provide enough trucking to this project. The site access restraints meant that truck only had to be used and this demanded 5 trucks consistently and up to 8 trucks on the big stretches. Simcox achieved this mostly with our internal 12 truck fleet but also drew on three established local trucking subcontractors and even accommodated a truck and driver in Blenheim for two weeks from our head office in Christchurch during the peak trucking phase.
We had a few lost days due to rain but nothing more than what would be expected. It was the little things like sealing off the job prior to any rain events that minimised the effect and duration of weather delays. We worked closely with Marlborough District Council and provided engineering solutions to the client as the project was under construction.

Awards
Finalist - CCNZ Nelson/Marlborough Branch Awards 2019.